Week 2
It's week 2 of the Sleep Your Way to a Summer Body program! Last week, we focused on getting you into some simple and easy exercises to get moving, along with daily sleep tips. This week, we're ramping up the fitness moves and giving you even more ways to improve your sleep!
Remember, by focusing on these two areas in tandem, you'll have greater success in getting fit for summer and for life!
Week 2 – Your Bedroom Environment
This week is all about how to optimize your bedroom environment to create your own personal sleep sanctuary. Comfort is so important for sleep; that's why we first focus on mattress, pillows, and sheets. Then we focus on sleep disruptors and solutions.


Welcome to week 2 of the 'Sleep Your Way to a Summer Body Challenge!' by SleepScore Labs. This week, we're starting with some cardio followed by some core workouts. Here's how:
Start with a jog for 25 minutes, walking when necessary. Then perform 2 sets of the following: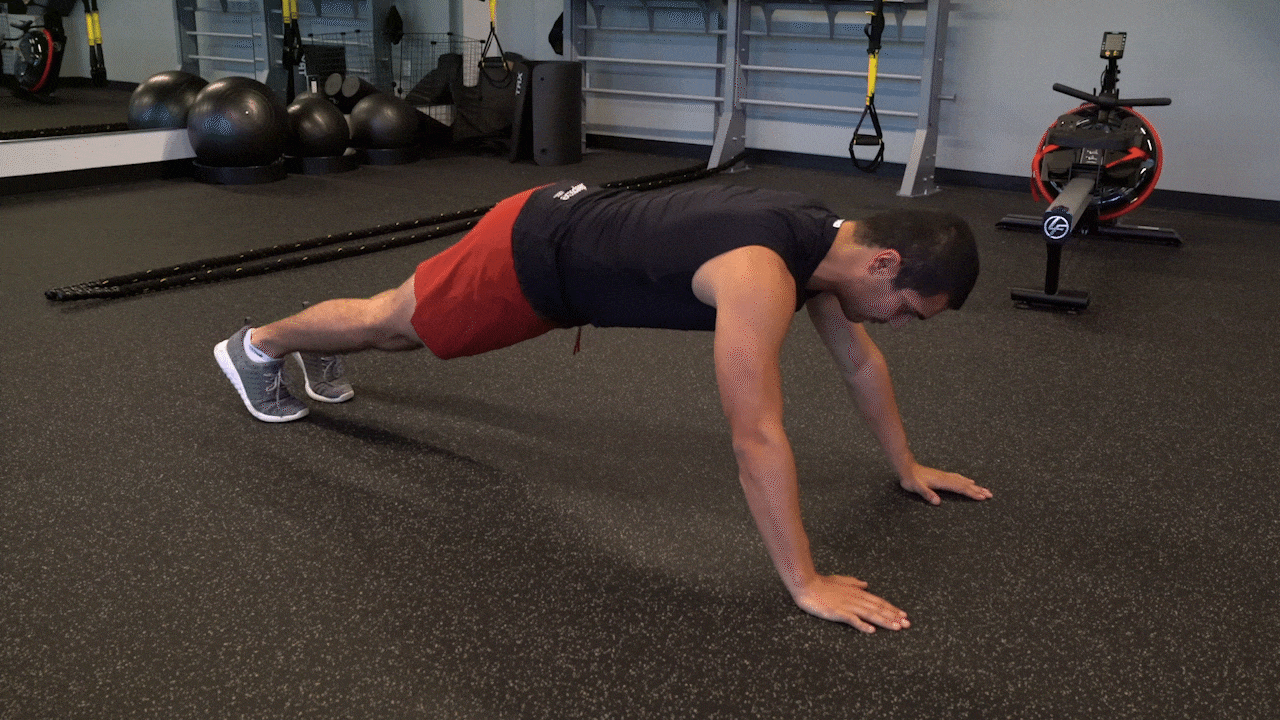 50 Mountain climbers
(25 each side)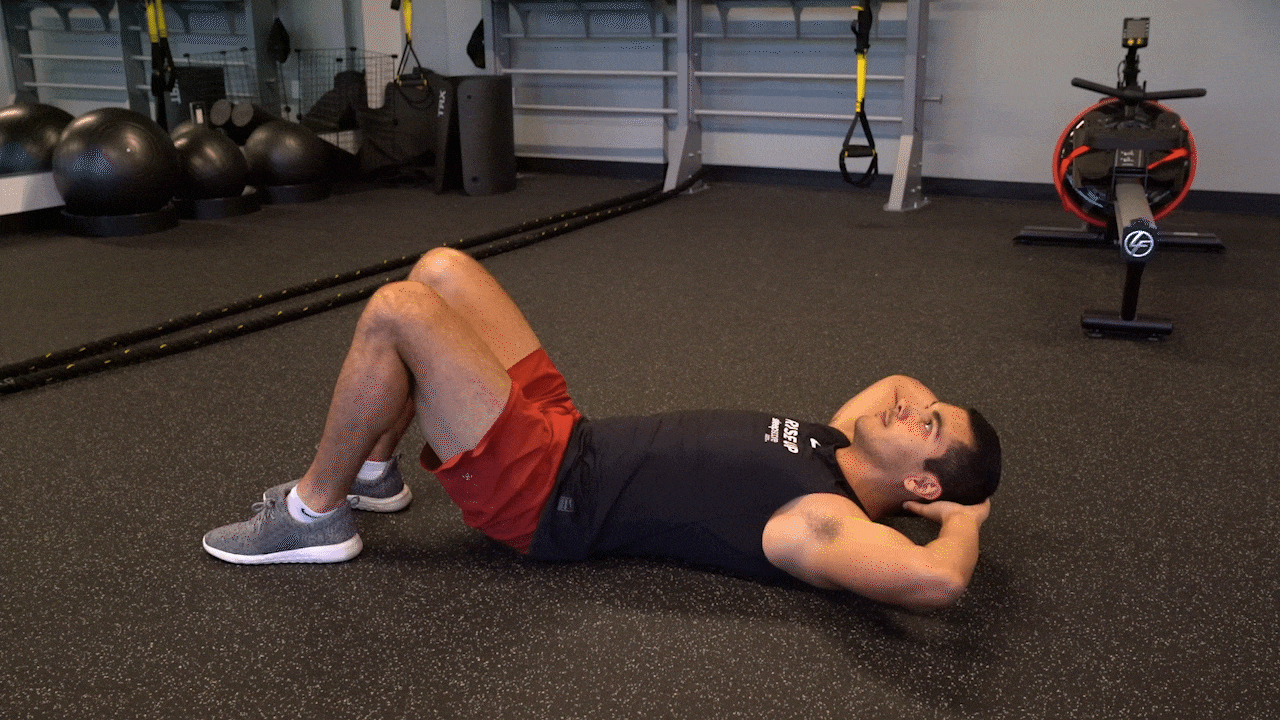 50 Crunches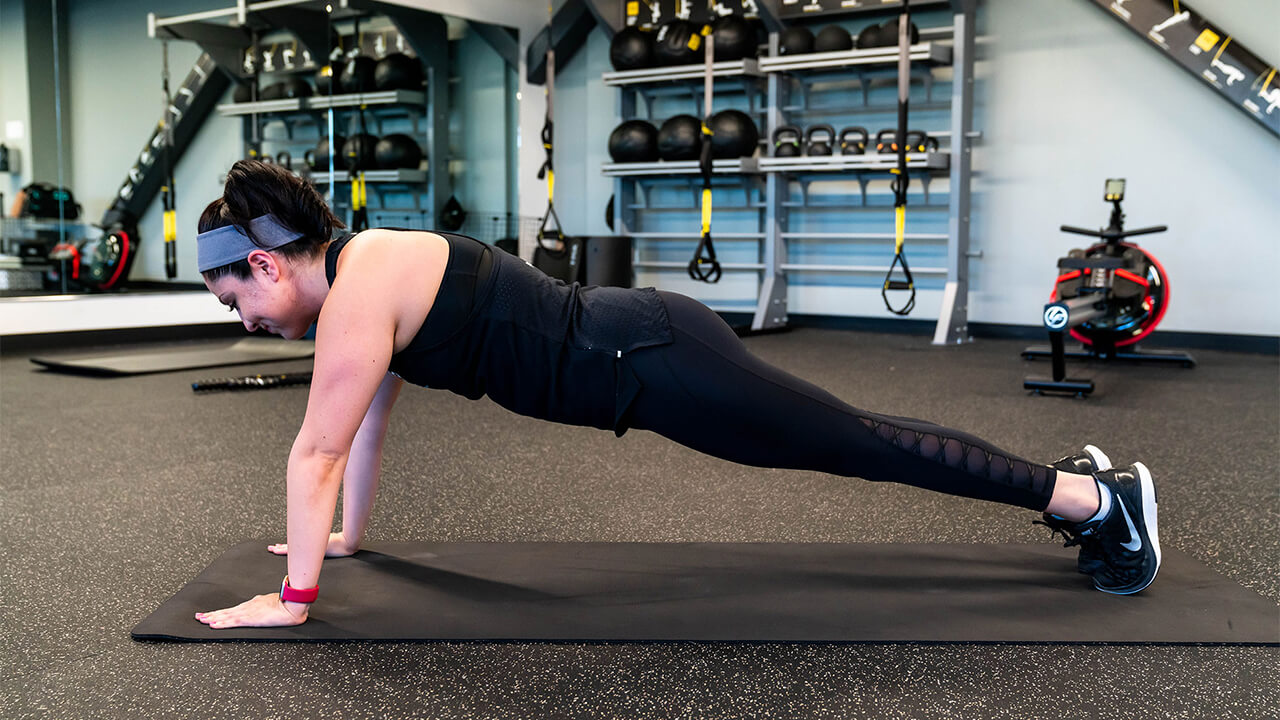 Plank – 30 seconds
High SleepScore:

Increase the speed on your mountain climbers.
Sleep: Your pillow and mattress
Have you paid attention to your pillow and mattress lately? If you can't get comfortable or if you wake with soreness, it could be time for a change.
Mattresses and pillows are very personal. Make sure to test different kinds to find the best for you.


Today, spend 20 minutes on any cardio exercise of your choice. Run the stairs or go for a bike ride. Make it fun! Then, let's get your whole body engaged by performing 4 sets of the following.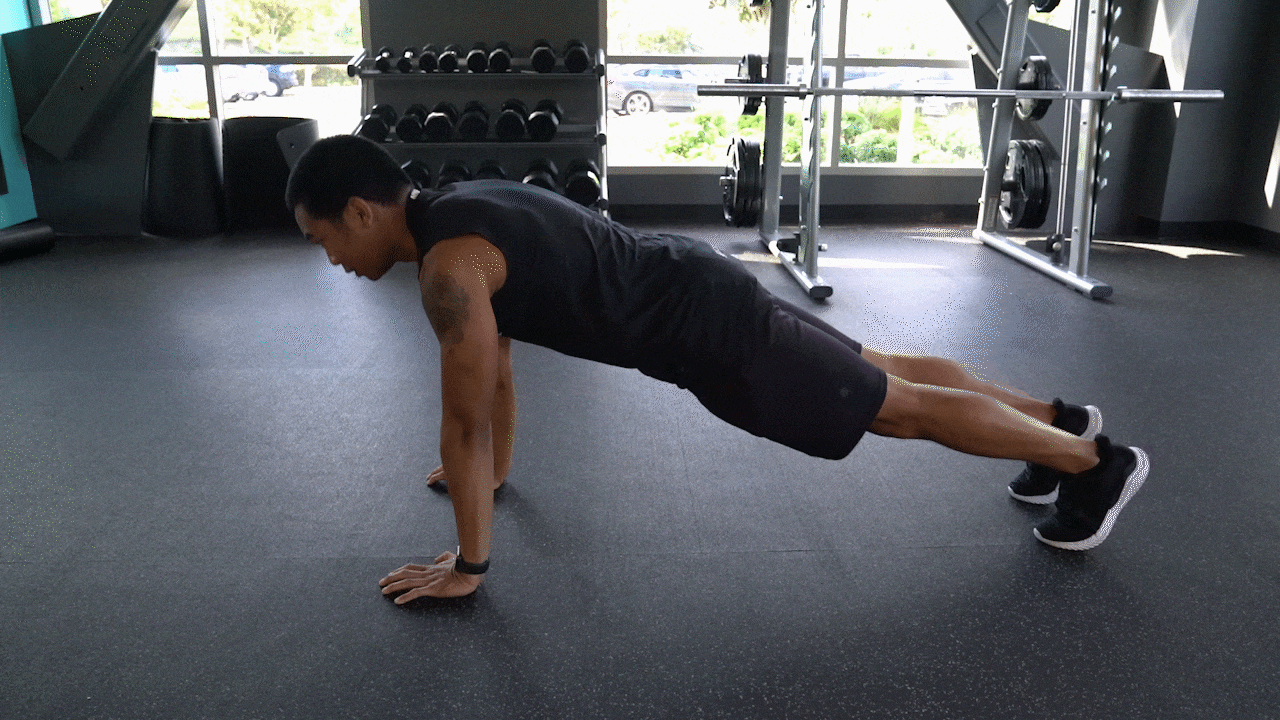 15 Push-ups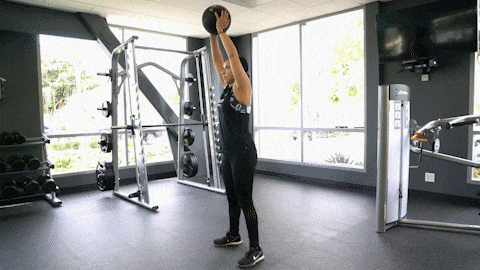 15 Medicine ball squats with overhead press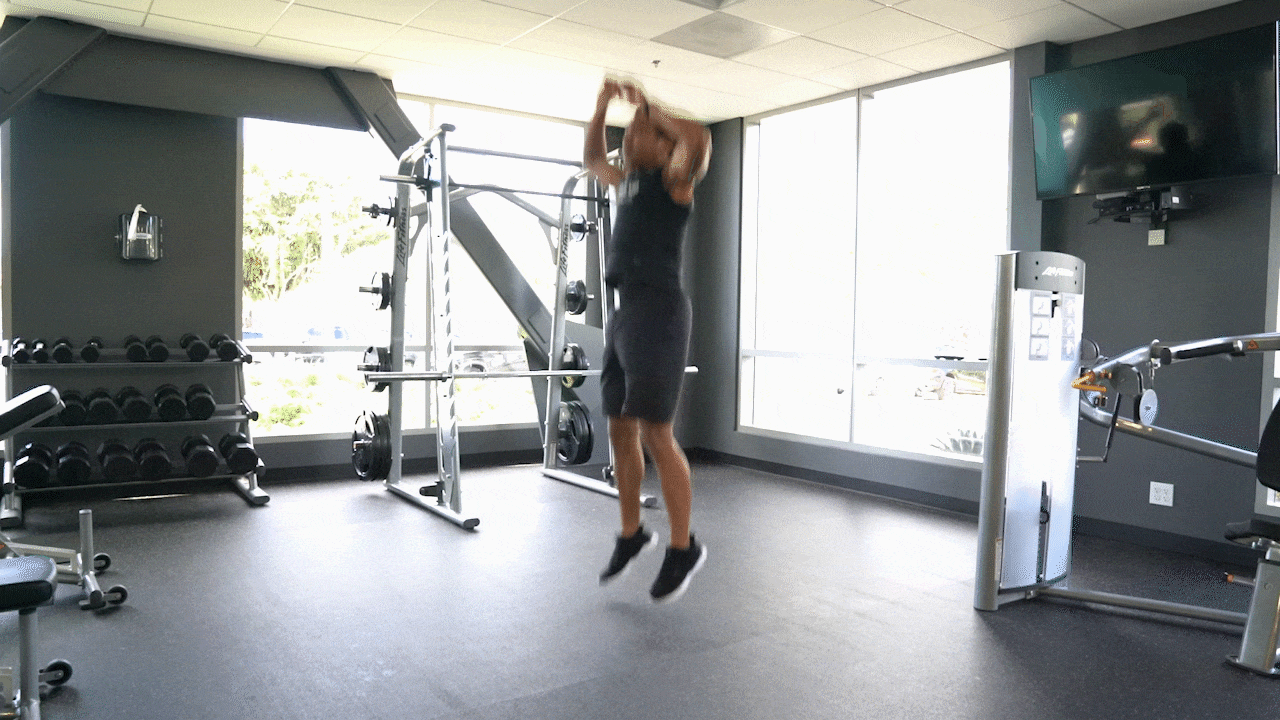 15 Burpees with push-up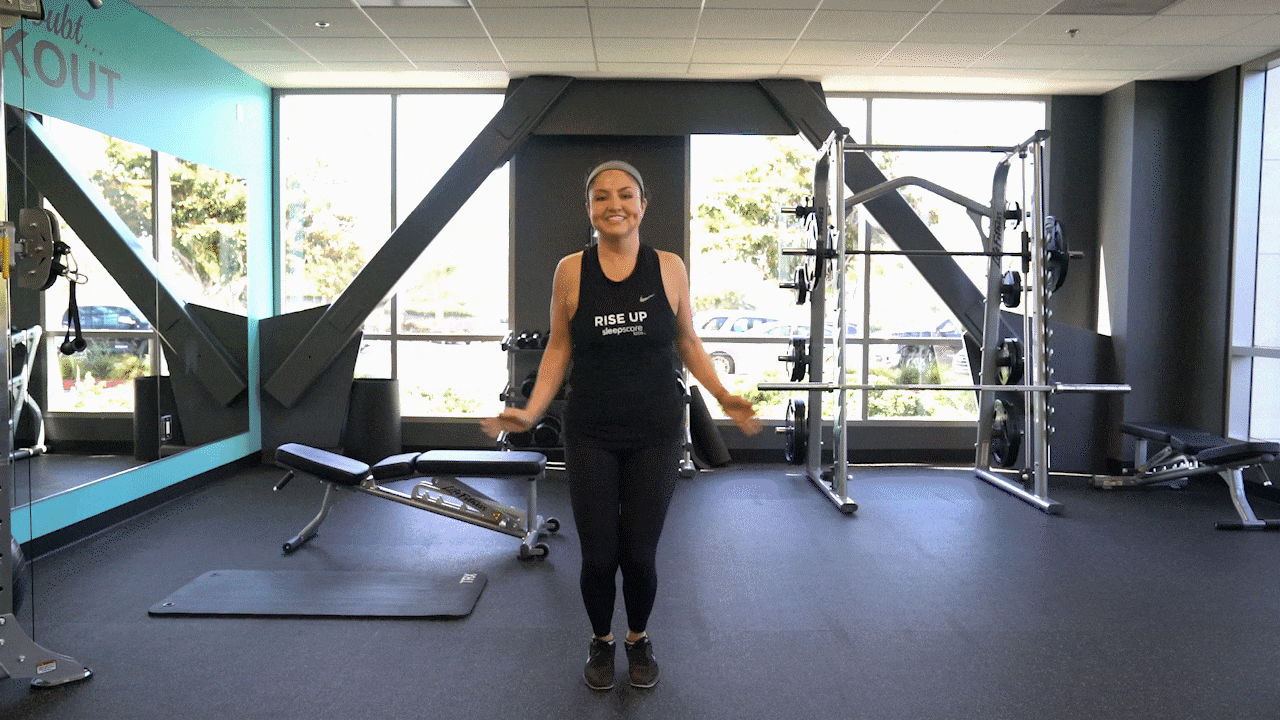 50 Jumping jacks
(rest when necessary)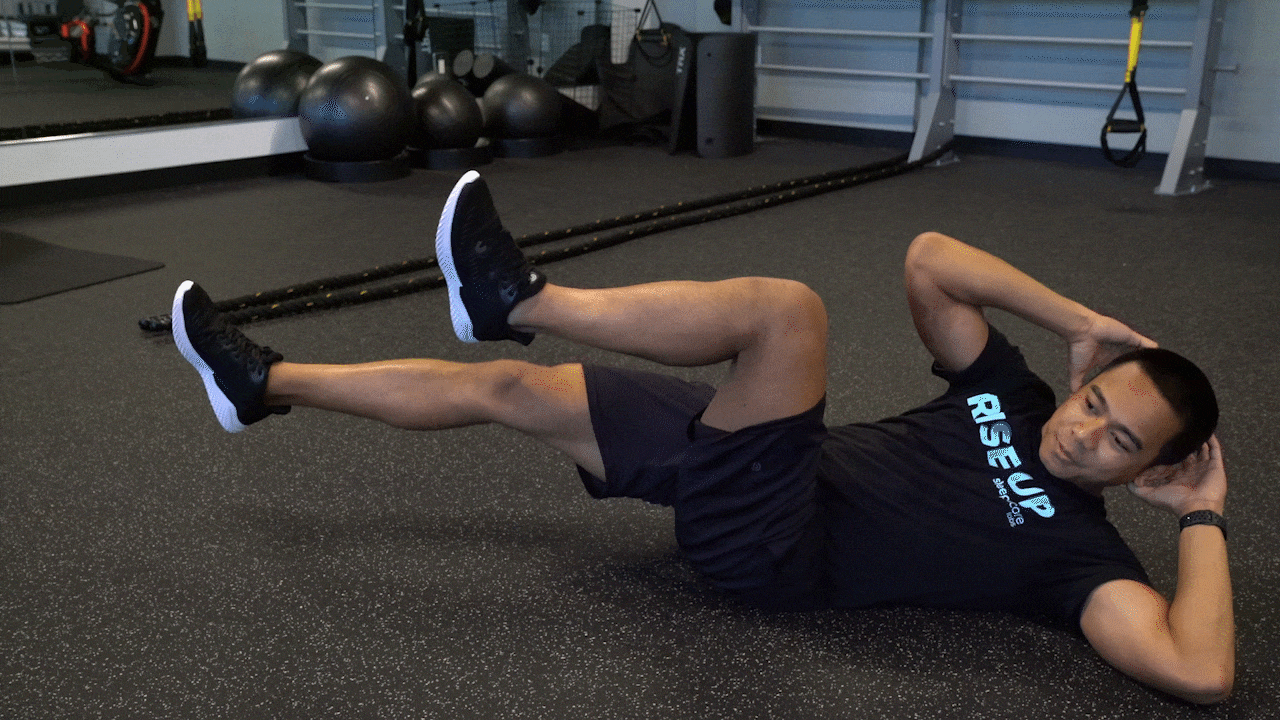 50 Bicycle crunches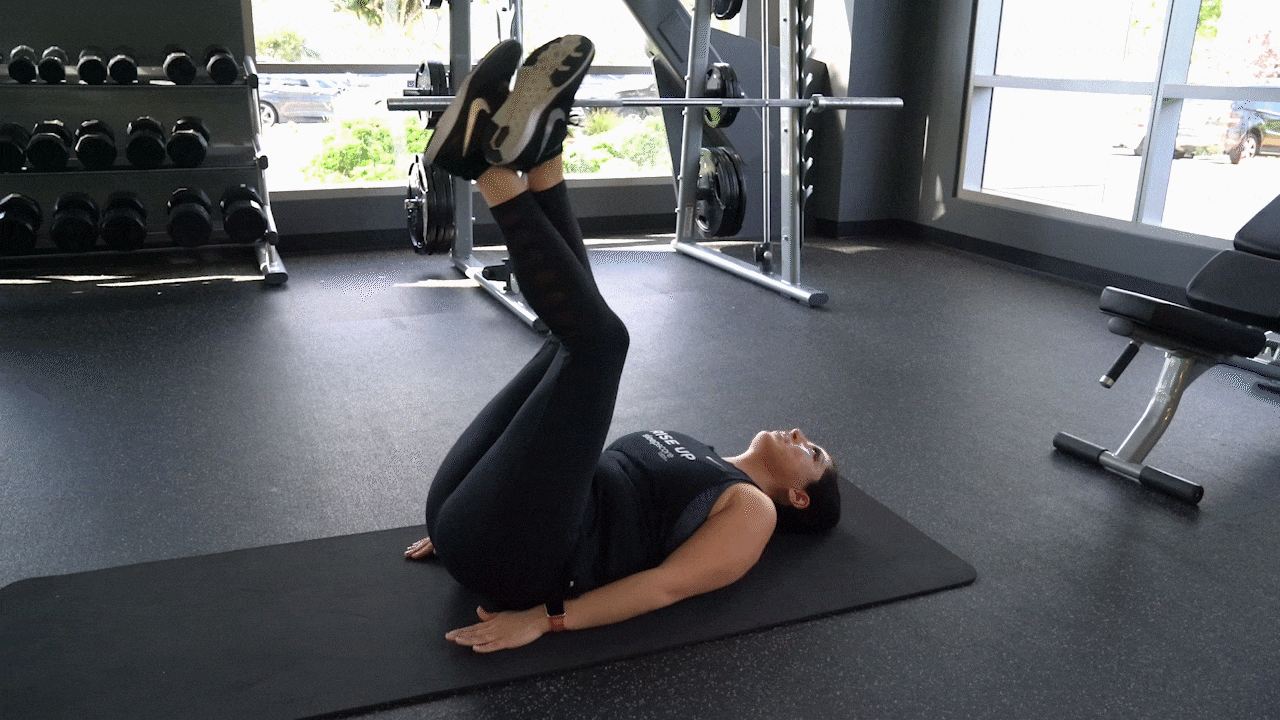 50 Reverse crunches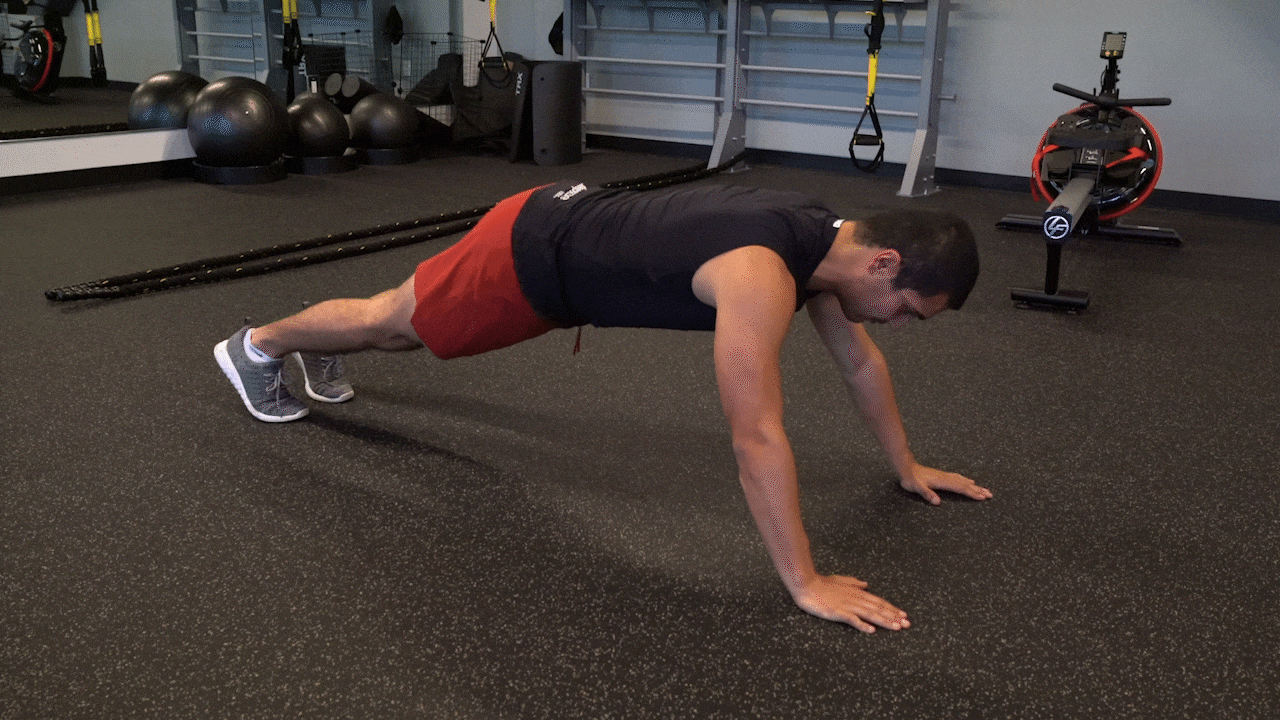 50 Mountain climbers
(25 each side)
Low SleepScore:

If you're arms are feeling burned out, lose the push-up in burpee.
Sleep: Sheets, blankets & pajamas
Find out what your bedding is made of. If possible, replace synthetic fabrics with breathable, natural fibers such as bamboo or wool.
If you sleep with socks, warm your feet with a massage or footbath before you put on your socks. This will tell your brain it's time for sleep.


Exercise:
Lean legs and jam
Today, start off by warming up with 5-minutes of cardio of your choice. Then, perform 5 sets of the following: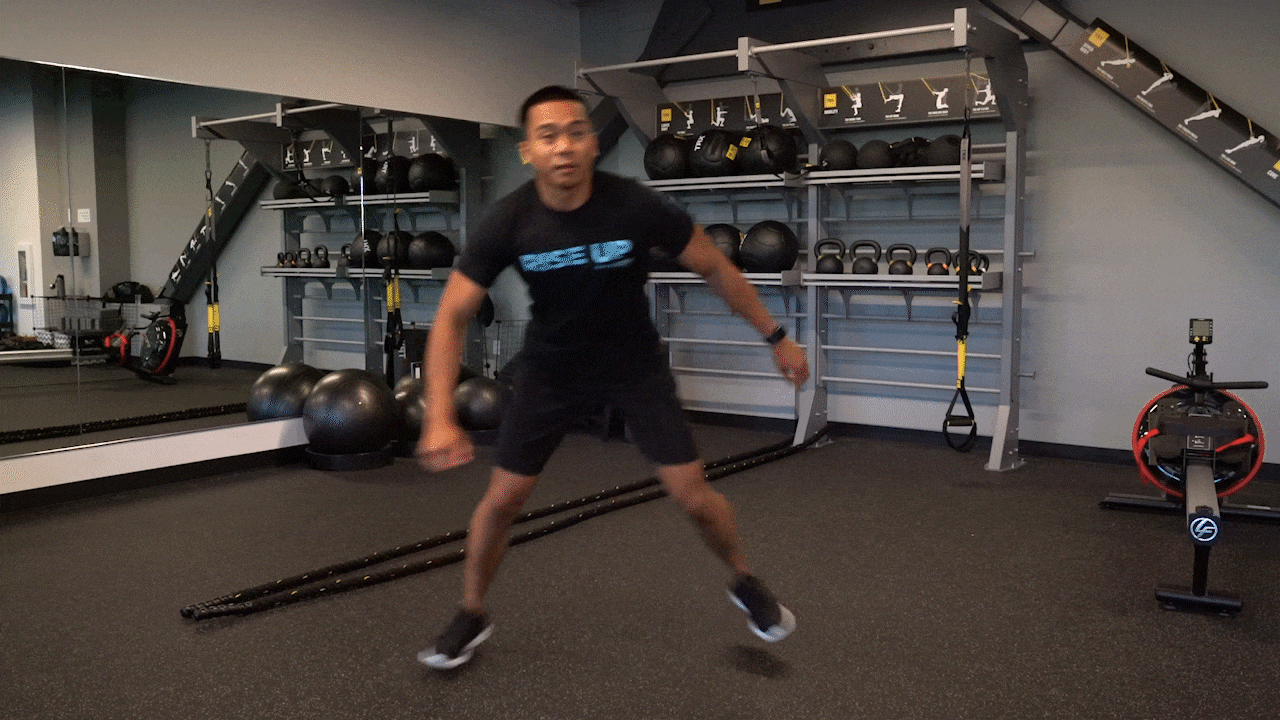 20 skater jumps
(10 on each side)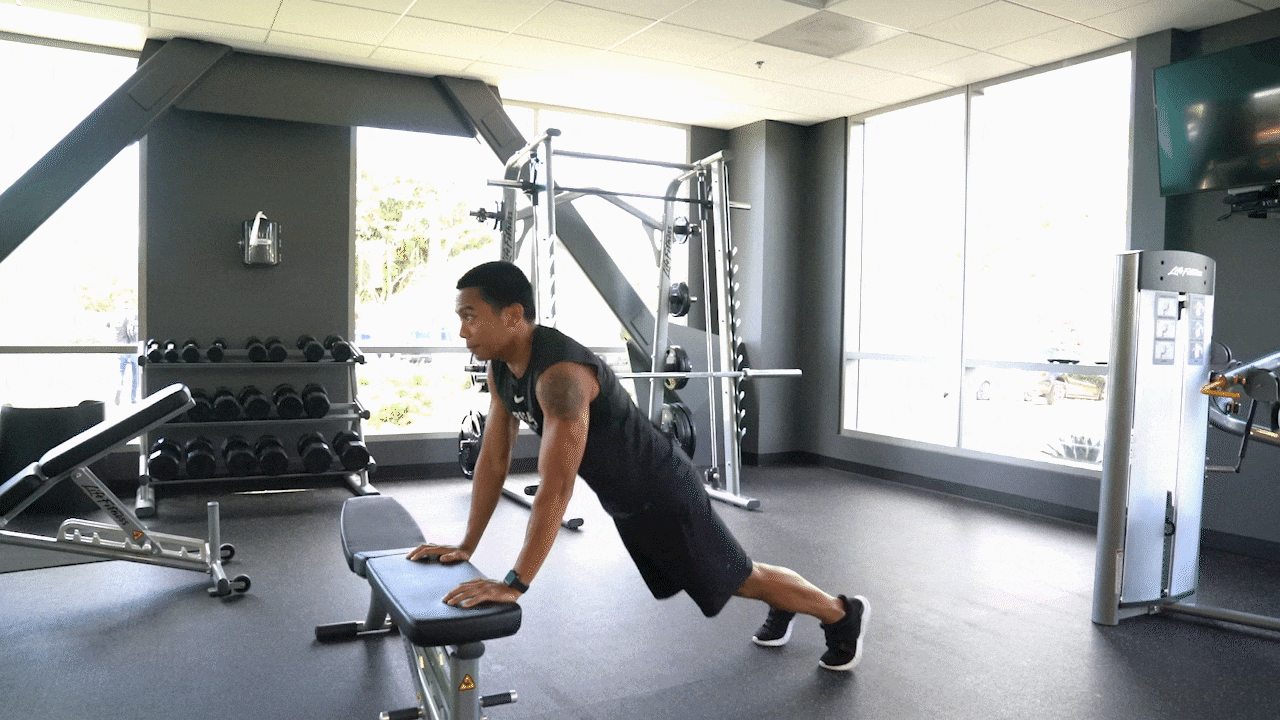 5 Bench burpees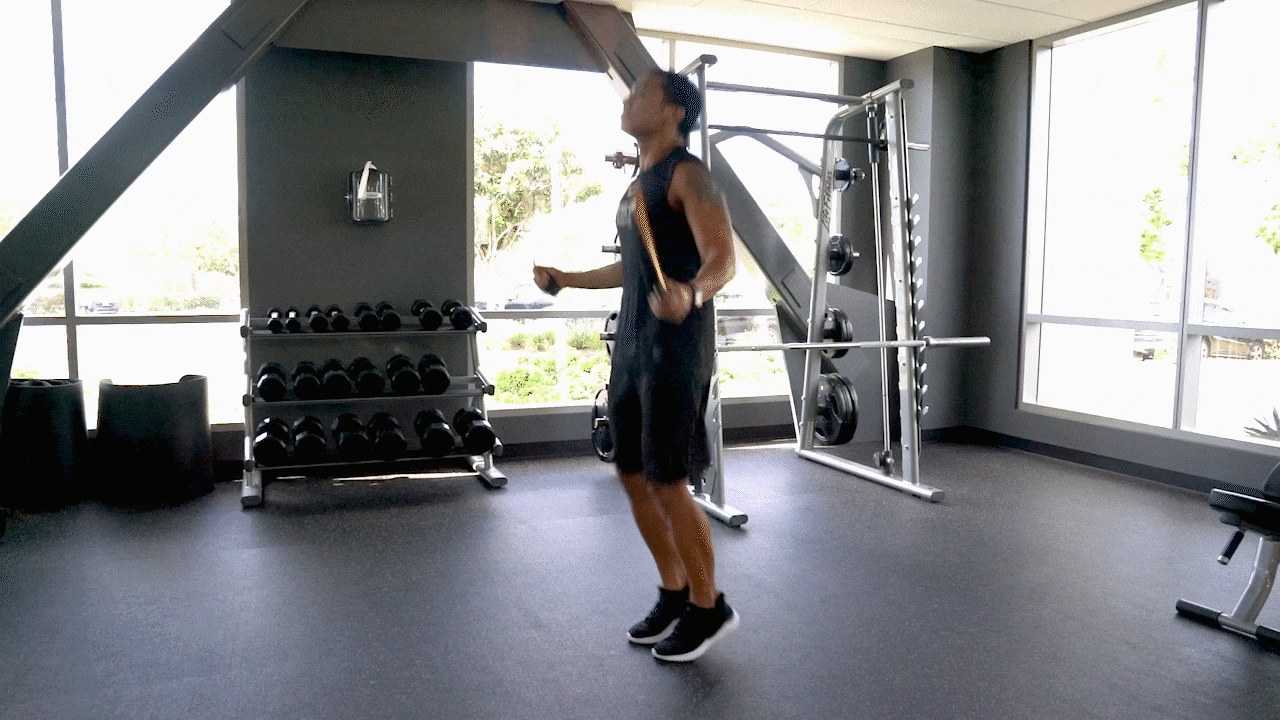 1-minute Jump rope, stopping when necessary to rest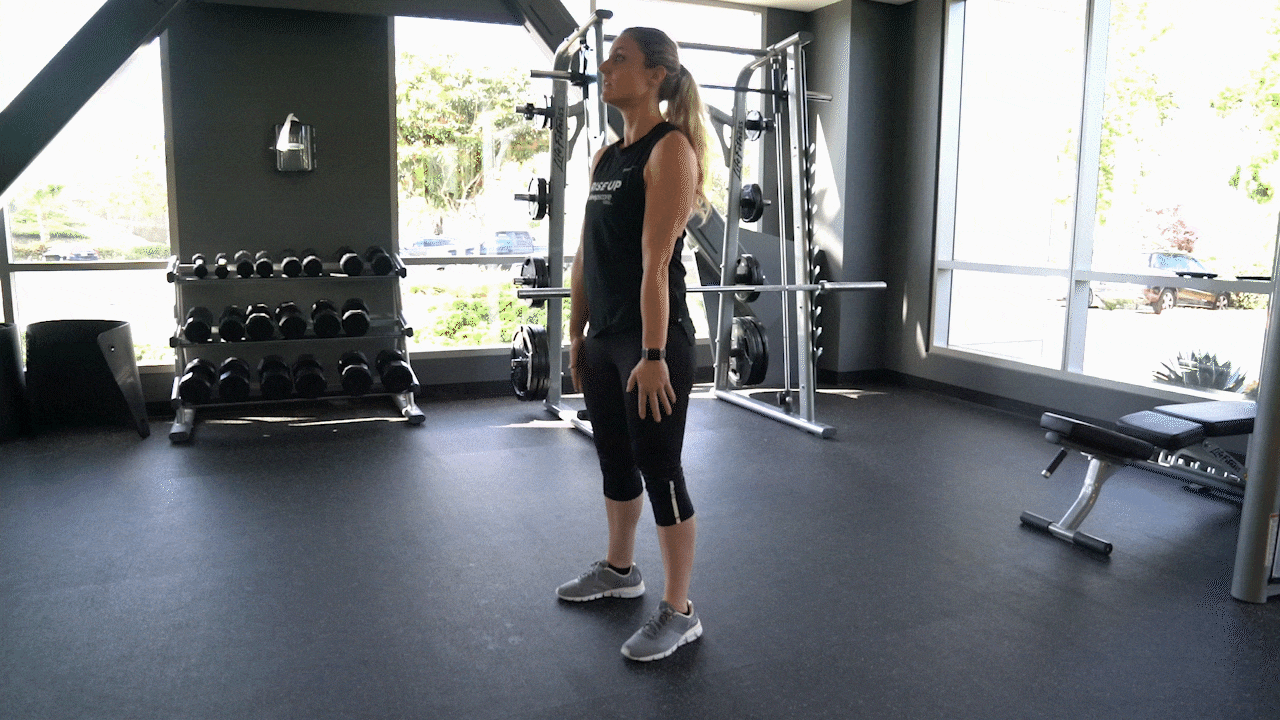 10 Bodyweight squats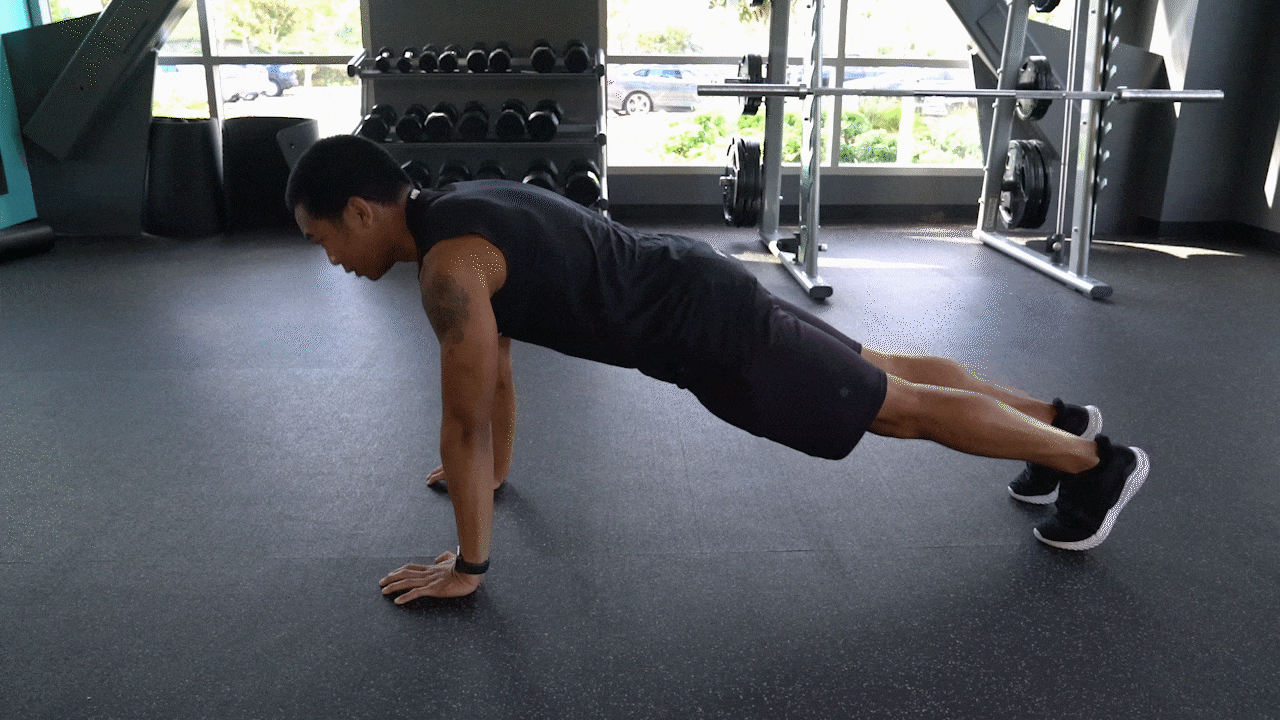 15 Push-ups
Top-off the workout with 5-minutes of cardio of your choice.
High SleepScore:

Try the lunges and squats with dumbbells and add a push-up to each burpee.
Low SleepScore:

Try the push-ups on your knees and the burpees on a bench or couch.
Sleep: Zero light
In your bedroom, use blackout curtains and dim, warm-colored lights rather than cool, white LED lights.
Cover any blinking or bright lights on electronics with tape or stickers.


Use today to try something new. One of the keys to sticking to a workout routine is to make it fun. Hit up your local Pilates studio or sign-up for a spin class. Pro-tip: A lot of studios and gyms have great introductory offers or offer their first class free. It's a great way to try something out and see if you like it.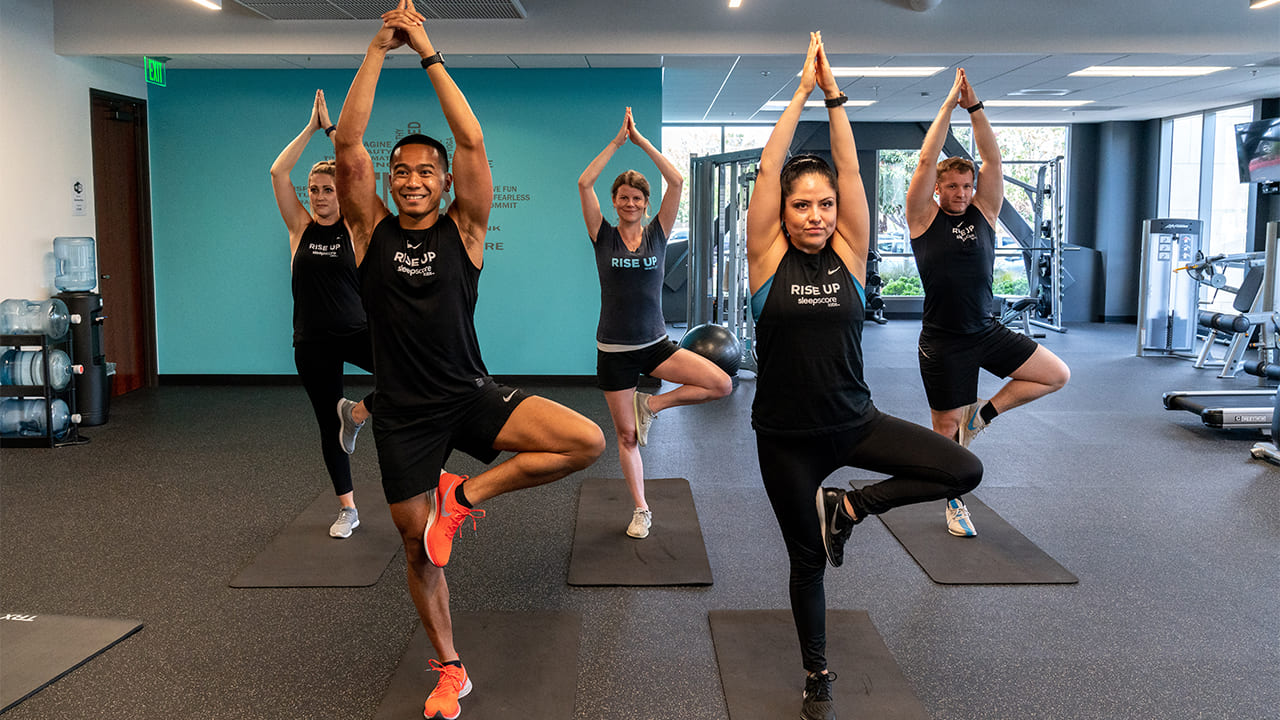 Sleep: Keep it quiet
If noise disturbs your sleep, first try to get rid of the source.
If you can't eliminate the noise, check out products designed to mask unwanted noises — or products that reduce snoring if that's the noise keeping you up.


Exercise:
Dumbbell sandwich
We're almost to the end of week 2. Keep up the good work! Today, we're working those arms with some weights. Make sure to choose dumbbells that you are comfortable with and are light enough so you can complete every set.
Here's what you want to do:
Warm up with your choice of cardio for 10-minutes, then perform the 3 sets of the following.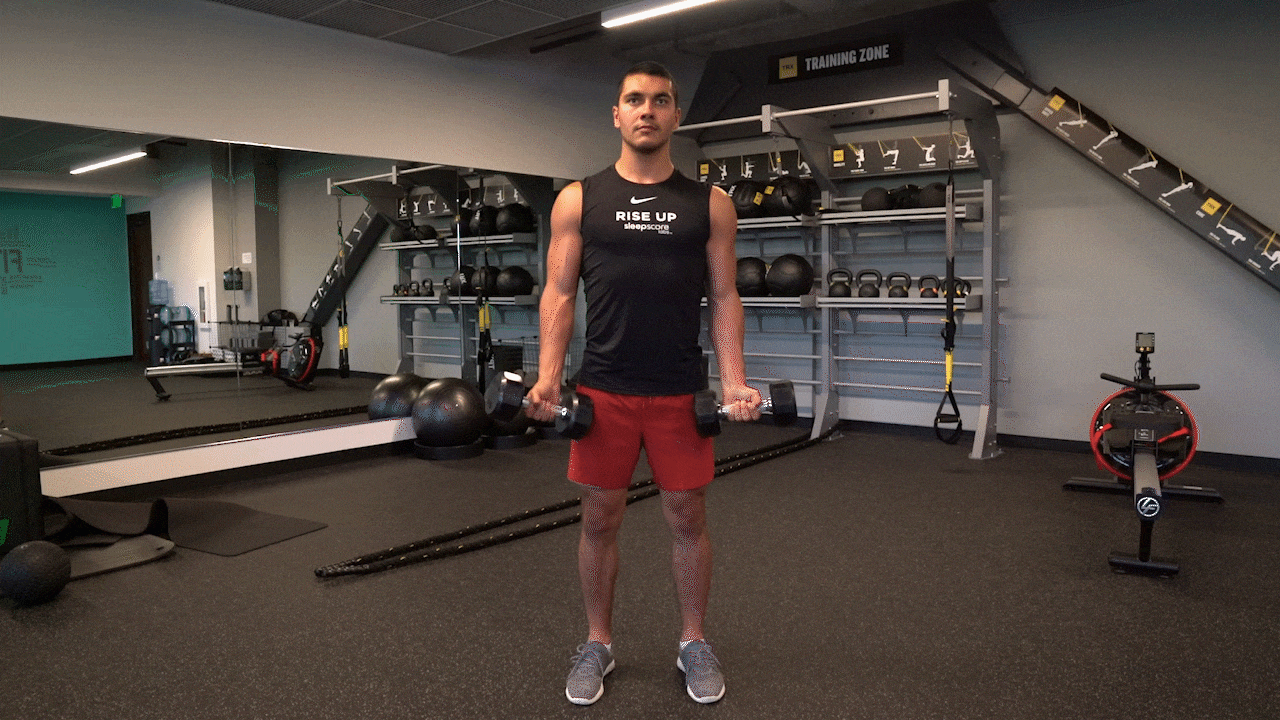 10 Dumbbell curls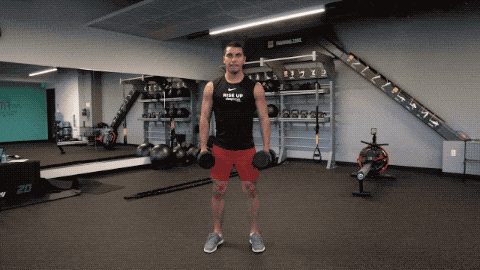 10 Dumbbell overhead presses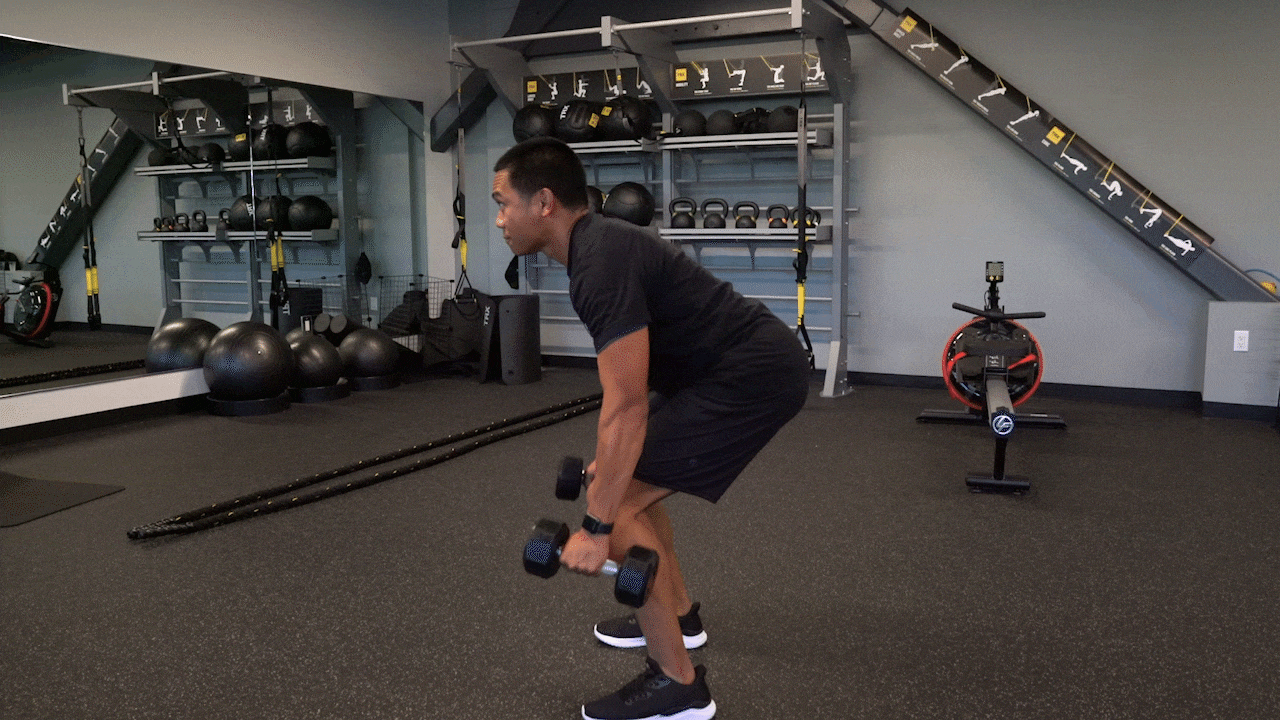 10 Dumbbell bent-over rows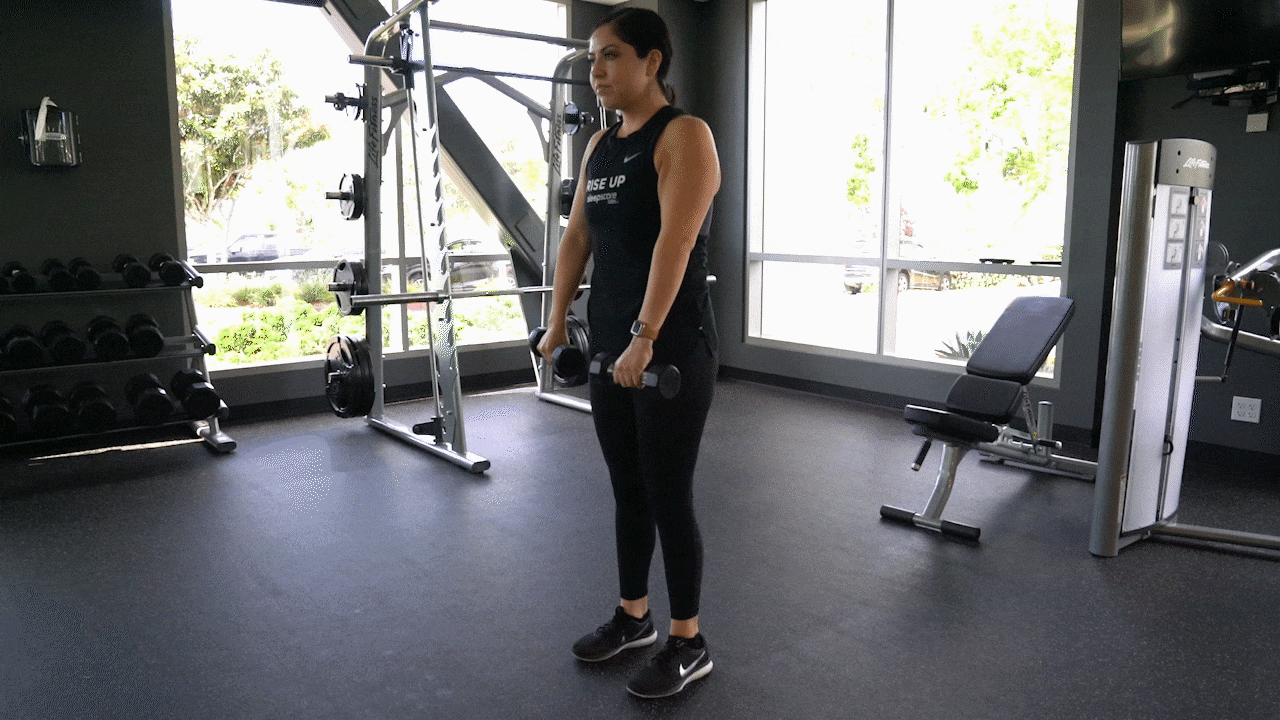 10 Dumbbell deadlifts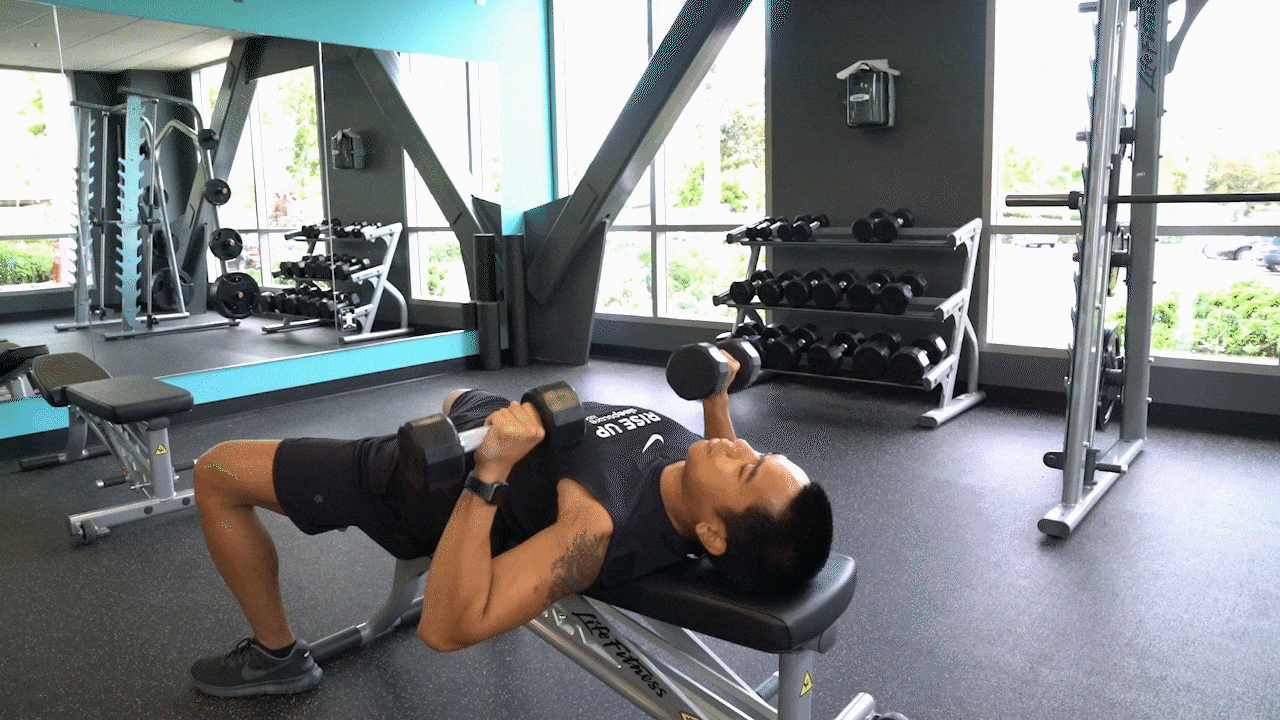 10 Dumbbell floor or bench presses
Finish off with 15 minutes of cardio, your choice!
High SleepScore:

If you're feeling really energized, feel free to add an additional set!
Sleep: Keep it cool
The ideal sleeping temperature is around 18 degrees Celsius (65 degrees Fahrenheit).
The ideal humidity is around 45%. Humidity levels below 45% can irritate your eyes, nose, or throat, and humidity above 50% can fuel growth of bacteria, dust mites, or mold.


We're almost to the end of week 2. Keep up the good work! Today, you're going to begin your workout with a 10-minute jog. Then, perform 2 sets of the following.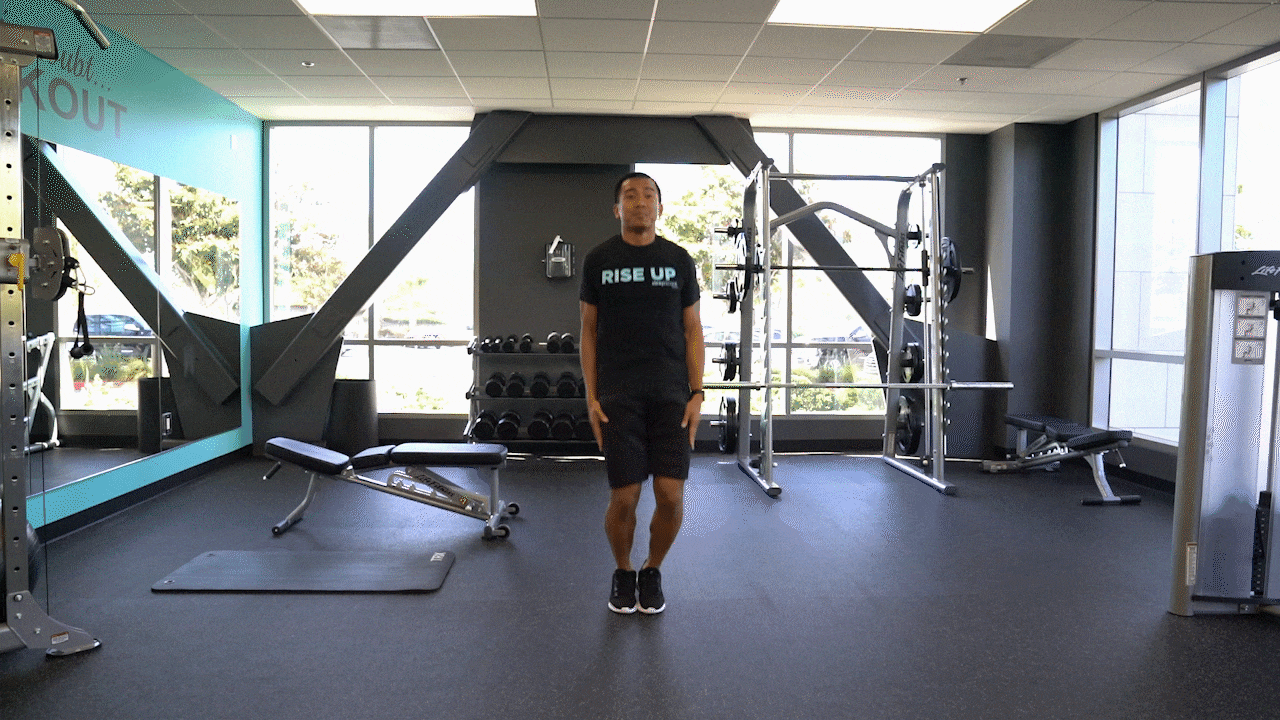 50 Jumping jacks
(pause as needed)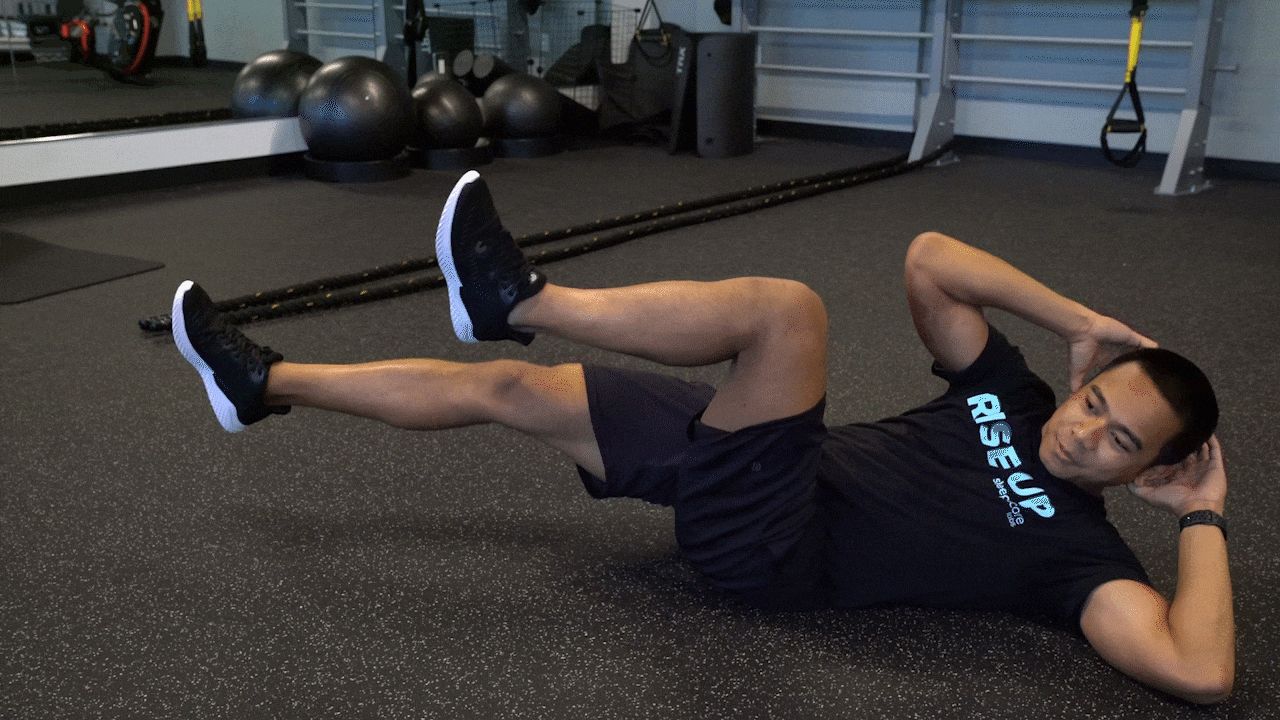 40 Bicycle crunches
(20 on each side)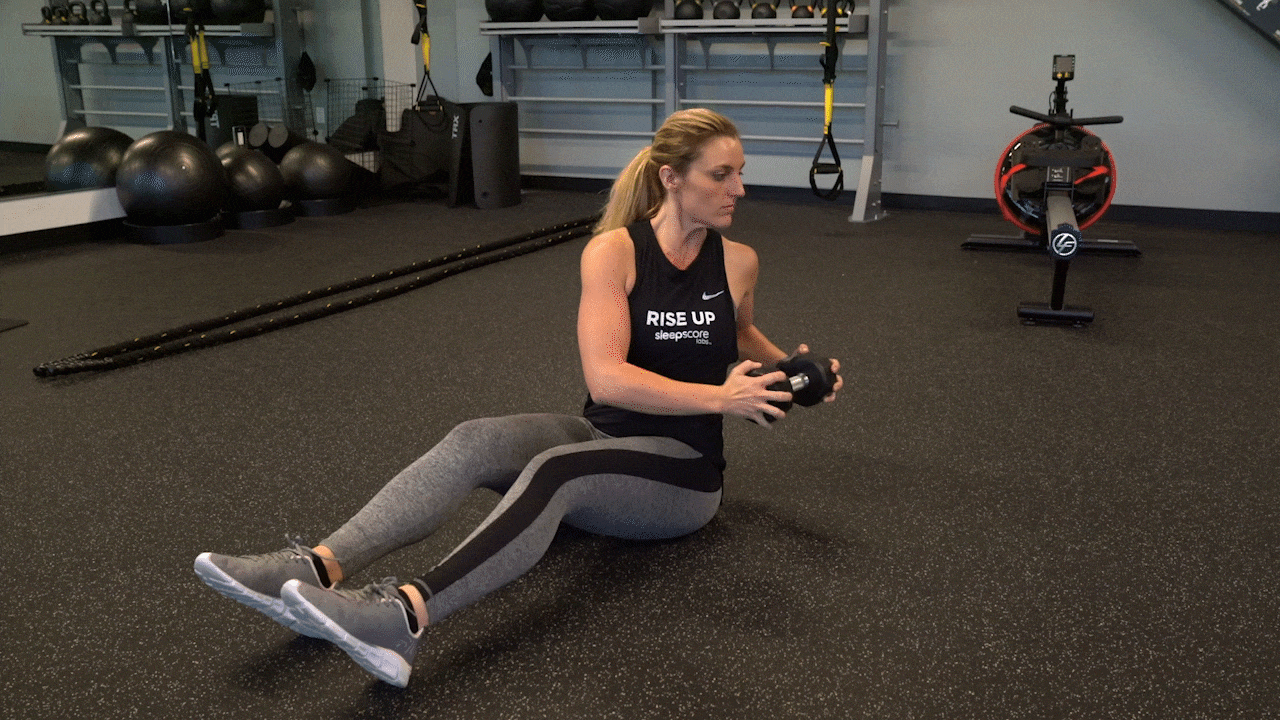 40 Dumbbell Russian twists
(20 on each side)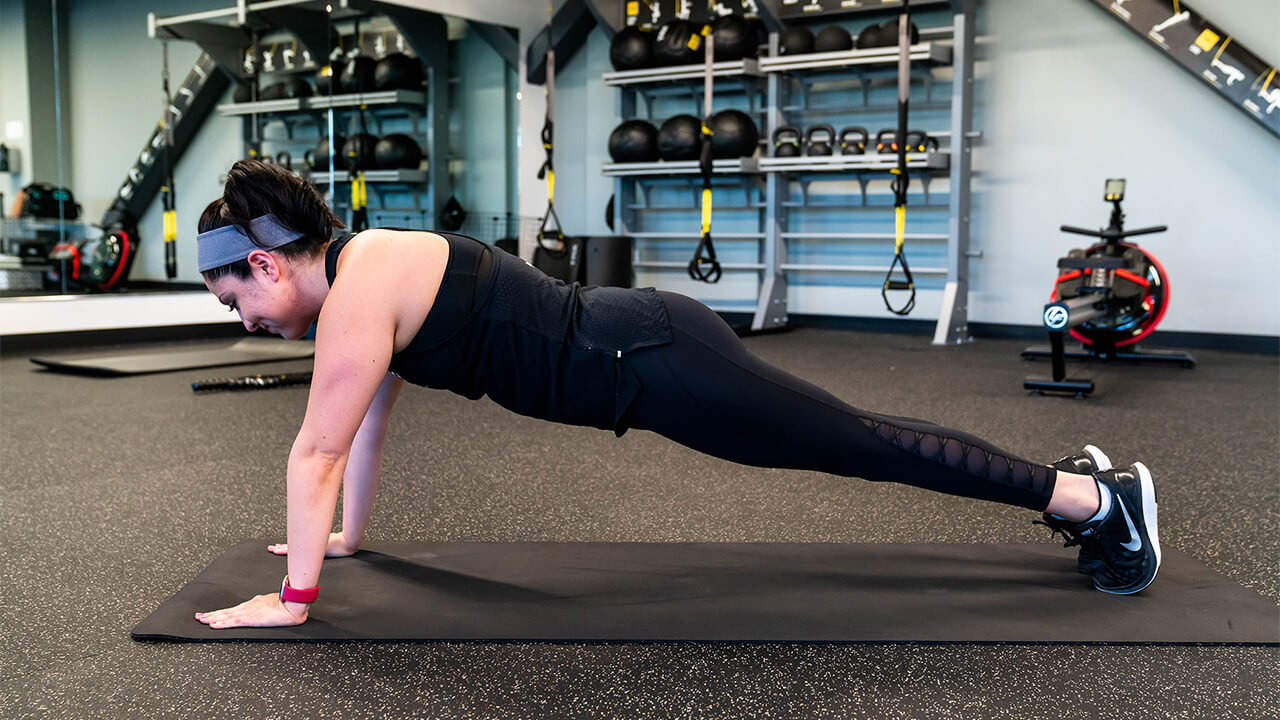 60-second Plank
Sleep: Pet problems
If your cat or dog is disrupting your sleep, create a nice place for them to sleep at night that's outside of your bedroom.
If you have allergies, keep pets out of your bedroom during the daytime too, because they can leave hair and dander. You might also consider investing in an air purifier.


Wow, you did it! You have 2-weeks of exercise under your belt and should be feeling awesome! Reward your body today by taking a rest day. Take a long bath to soothe your tired muscles and if you still want to squeeze in something active, go on a nice stroll or scenic hike.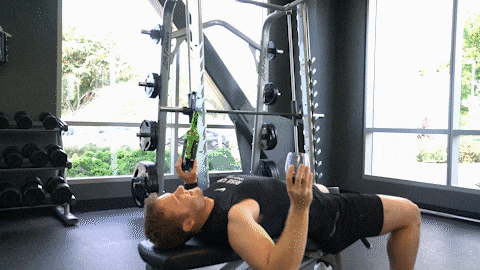 Don't forget to use your SleepScore App to track your sleep night on night so you can start learning about what impacts your nightly sleep! The first step in managing your sleep is measuring it!
Sleep: Keep it clean
Have you washed your sheets this week? Most people get their best nights of sleep on clean sheets.
YVacuuming your bedroom floor will help keep the air fresh too.
Please review the following disclaimer carefully before using the information on this site. SleepScore Labs and this site offers information on sleep, health, and fitness that is designed for informational purposes only. You should not rely on the information provided as a substitute for professional medical advice, diagnosis, or treatment. You should consult your physician or other health care professional before starting this or any other program to determine whether it is right for you. Do not start this program if your physician or health care provider advises against it. You should be in good physical condition and be able to participate in the exercise, and it is the responsibility of you and your health care provider to evaluate your own medical and physical condition and to determine whether to use any of the content on this website or information provided to you as part of this program. You should understand that when participating in any exercise or exercise program, there is the risk of physical injury. By voluntarily participating in this program or by undertaking any exercise displayed on this website, you agree that you do so at your own risk, are voluntarily participating in these activities, and assume any and all risk of injury to yourself. SleepScore Labs assumes no responsibility or liability of any kind for any loss or damage suffered by any person as a result of the use or misuse of any content on this site or content provided to you as part of or in promotion of this program.